DESIRED – Deep Efficiency and Smart Grid-Integrated Retrofits in Disadvantaged Communities
This pilot project will consist of new and existing multifamily affordable housing communities in diverse climates implementing a variety of decarbonization upgrades to help work toward zero net carbon operation while efficiently aggregating and increasing the availability of DERs to provide multiple grid services. A focus will be on disadvantaged housing communities that are able to respond to grid carbon emissions signals to help influence load shifting and will have enhanced community resilience using bi-directional EV charging.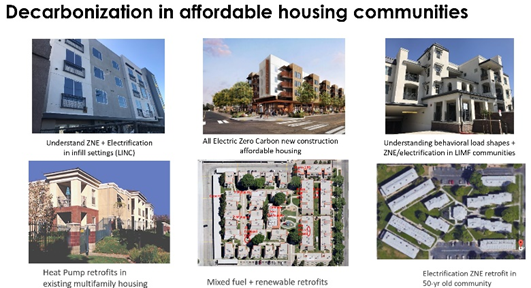 Team Lead
Electric Power Research Institute (EPRI)
Project Title: DESIRED – Deep Efficiency and Smart Grid-Integrated Retrofits in Disadvantaged Communities

Partners: Gas Technology Institute, Seattle City Light, Community Roots Housing, Vistar Energy and Sentient Buildings

Planned Location of Buildings: Seattle, WA and New York City, NY

Building types: 600+ units in existing and new multi-family affordable housing

New or retrofit buildings: New and retrofit buildings

EE target: 30% of energy savings

Total load: N/A

DERs planned: Battery storage systems to be used in time-of-use arbitrage, EV charging infrastructure, and rooftop PV

Flexible Loads: Targeting connected 120V monoblock heat pumps, connected centralized and unitary heat pump water heaters, managed community-scale EV charging

Coordinated Controls: The DER management will be coordinated through a data platform that combines customer service data, community energy systems, and grid conditions. The controls will focus on energy cost savings using an energy cost threshold approach.

Grid issues addressed: Distribution upgrade deferral and temporal capacity constraint alleviation will be addressed in this pilot using connected communities as local distribution resources with load shifting and DERs.

Grid services planned: This project will explore bulk system services and imbalance market participation through flexible load aggregation, load shifting, and optimal DER management. Managed bi-directional EV charging infrastructure will also be explored.
Back to all projects