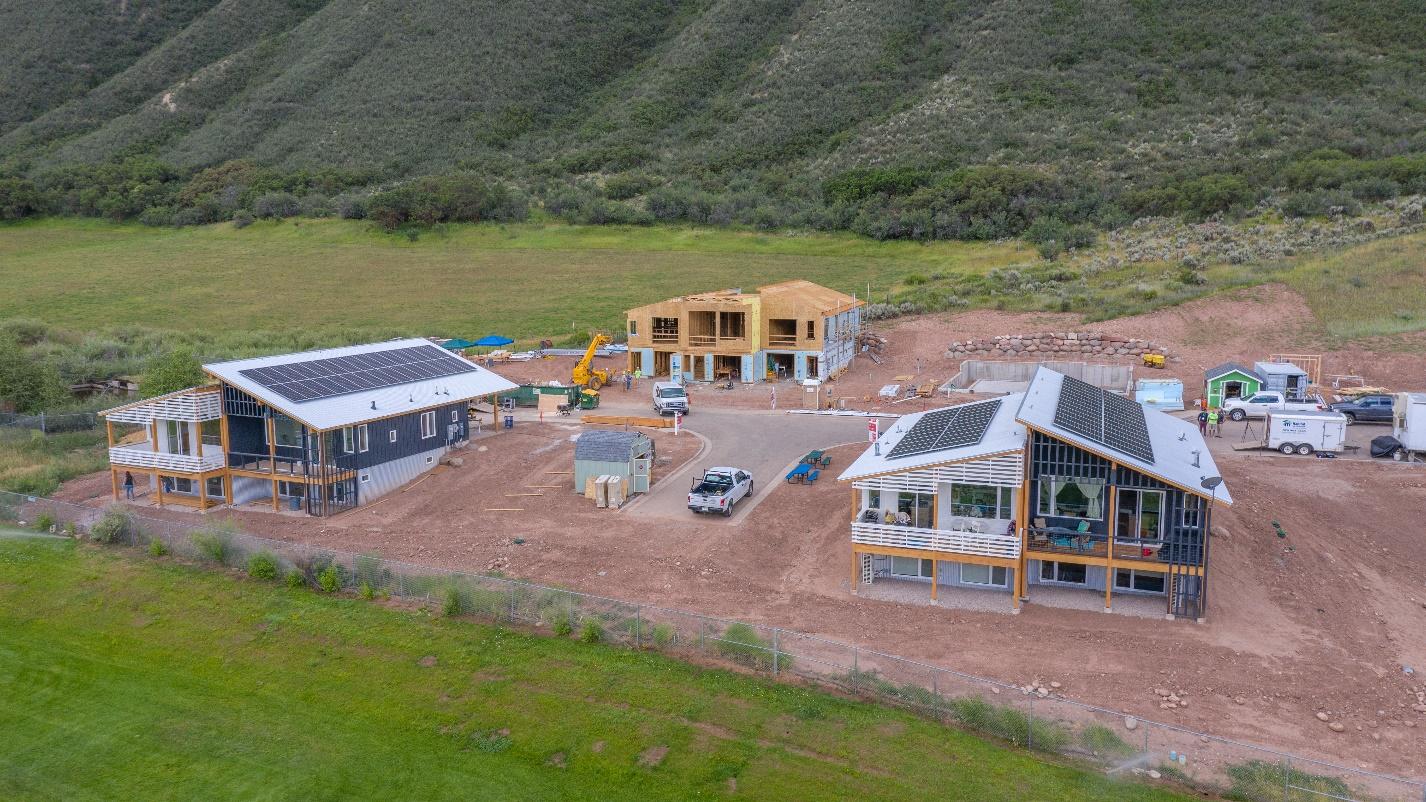 AI-Driven Smart Community Control for Accelerating PV Adoption and Enhancing Grid Resilience
The National Renewable Energy Laboratory (NREL) has partnered with Holy Cross Energy to develop and demonstrate a community-scale, hierarchical control solution to address the potential grid issues arising from high penetration of solar photovoltaics (PV) as well as to improve grid reliability and resilience in this residential community. A field pilot study that began in October 2018 is being performed at an affordable housing development called the Basalt Vista Community. This community offers school teachers and other professionals in the local workforce the opportunity to purchase affordable homes. Led by Habitat for Humanity Roaring Fork Valley, Basalt Vista includes 12 buildings and 27 units, and it represents an autonomous energy grid with all-electric, energy-efficient homes. Consisting of duplexes and triplexes, it is located on the hillside behind Basalt High School. With no natural gas line in the community, this is the first all-electric net-zero community in rural Colorado. In the field pilot study, NREL is validating the performance of the hierarchical control solution, which consists of NREL's foresee home energy management systems (HEMS) and community aggregators, in increasing demand flexibility and self-consuming PV, reducing potential over-voltages, and supporting critical loads during emergency events. The pilot is scheduled to continue through December 2021.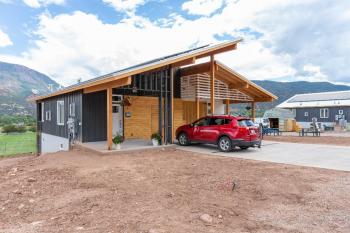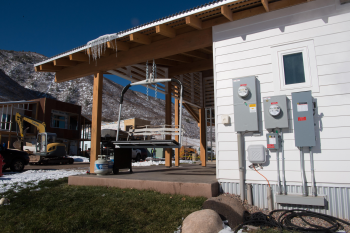 Partners: NREL, U.S. Department of Energy (DOE) (Solar Energy Technologies Office [SETO] and Building Technologies Office [BTO]), Holy Cross Energy, Habitat for Humanity Roaring Fork Valley, and Copper Labs 
Connected Community type: Residential new construction
Distributed energy resources (DERs) installed: The homes are equipped with rooftop PV, battery storage, mini-split air source heat pumps, heat pump water heaters, and electric vehicle (EV) chargers. 
Flexible loads: The smart controls can optimize the behind-the-meter (BTM) flexible loads and align them with the PV production of the rooftop systems. When applicable, the excess electricity is stored in home battery systems. The foreseeTM HEMS can shed, shift, or modulate the flexible loads depending on the home's need and current grid conditions. A forecast of the home's flexibility band over the next few hours is performed and provided to the aggregator for coordinated control.
Aggregated controls: Community-level aggregators coordinate with individual HEMS to manage the BTM loads. The aggregator receives a flexibility band forecast from each HEMS, and then performs optimal dispatch considering each home's preferences and the distribution system's safety constraints. Aggregators can also interact with higher-level utility controllers to control community-level DERs and coordinate with loads on the distribution feeder outside the community.
Value proposition: From the utility perspective, Holy Cross Energy wanted to understand the benefits of integrating new, customer-owned Internet of Things (IoT)-based technologies versus traditional, utility-owned direct load control. From the homeowner perspective, this project will reduce utility bills while maintaining comfort and improving resiliency. From a societal perspective, it provides affordable housing for staff of the local school district while reducing carbon emissions.
Grid issues addressed: The Basalt Vista Community addresses one of the most pressing challenges facing renewable energy adoption - the mismatch between when variable energy is generated and when it is consumed. Holy Cross Energy was seeking a solution that would make its distribution system more resilient while increasing renewable energy in a challenging geographic landscape that is subject to natural disasters. The location has a mountainous terrain characterized by long power cables across long distances, and it has endured wildfires in recent years. Using the hierarchical control solution, the homes are able to exchange information with their corresponding aggregators in real time while respecting the reliability constraints of the local grid. This approach results in a virtual power plant that is able to reduce the impact of high penetration PV on feeders (minimize reverse power flow) and support emergency grid operation with a "soft microgrid" (minimize power exchange with the grid) that is able to operate for days without importing any electricity from the grid.
Grid services used: The community is able to offer enhanced load flexibility, voltage regulation and grid resilience by serving as an autonomous energy grid that is able to optimize energy scheduling and load shifting (coordinate net load from buildings) within the community to minimize reverse power flow. The goal of the project is 1-kW per home load shifting and 0% PV curtailment.
Experience/highlight: This project shows it is possible to introduce very advanced design and energy controls in an affordable housing community and rural town in Colorado with its "think big, start small" approach. Maintaining coordination and optimization software is easier when it is hosted in the cloud, rather than installed in an on-site computer. The success of this community is creating opportunities to expand and develop similar communities in other regions. This project credits the nimbleness of working with a small utility in being able to embrace technology innovation. Active outreach has been done to potentially inspire other rural and non-rural utilities in the United States to participate in similar projects. 
 
Back to all projects